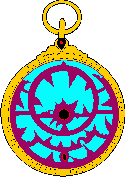 Originally incorporated as Astro-Graphics Services, Inc., Astrolabe, Inc. was founded in 1979 by Robert Hand and a group of fellow astrologers - Arthur Blackwell, Steve Blake, Gary Christen and Patricia White. Starting with programs for the Radio Shack TRS-80 and the Apple II, over the last 30 years it has produced astrological and other programs for CP/M-compatible, Commodore, Macintosh and IBM-compatible personal computers. In addition to a large line of other software, it is now publishing the first major Windows astrological programs in the English-speaking world.
Currently Astrolabe, Inc. employs eight people at its headquarters in Brewster, Massachusetts, on Cape Cod. It has a semi-autonomous division in Great Britain and direct-mail customers in countries from Argentina to Zimbabwe.
Check out the Astrolabe photo gallery page
Some highlights of Astrolabe's software history
In 1980, with the release of Astro-Scope, Astro-Graphics became the first company to produce horoscope-reading programs for microcomputers. Various astrological calculation programs followed, together with a full line of natal, forecast, relationship and numerology delineation programs.
In 1984, Robert Hand issued his first version of Nova, a refinement of astrological calculation programs he had been writing since 1977. This became the centerpiece for the Nova System, a series of interlocking calculation programs including Chartwheels, Timegraphs, Printwheels, Professional Natal Report and others.
In 1984 the company also took over distribution of Mark Pottenger's CCRS Horoscope Program, a uniquely powerful calculation program specially suited for astrological experiment and research.
In 1989 it released the AstroAnalyst by Bill Meridian and Robert Hand. This remains the premier program for determining the effect of astronomical cycles on stock, bond and commodities prices.
In 1992 it released Printwheels DTP, the first astrological program designed specifically for desktop publishing. It has followed this with astrological fonts and other programs that can send images to graphics files for use in drawing, painting, word-processing and page makeup programs. The latest program with DTP features is Nova Chartwheels.
In 1993 Astrolabe was approached by Esoteric Technologies Pty Ltd of Australia to become the worldwide publisher for Solar Fire and other programs for the Windows operating system. First released in Australia in 1992, Solar Fire has become the major Windows astrological calculation program in the English-speaking world. Currently in Version 8, Solar Fire can exchange chart files with most other IBM-compatible programs from Astrolabe and other astrological software producers.
Other Projects
Astrolabe also maintains an astrological calculation service, and it has developed various books and astrological tools. A recognized authority on astrological techniques and calculations, over the years Astrolabe has also given technical assistance to numerous other astrological businesses and software houses. Some notable products are:
Valliere's Natural Cycles Almanac, which Astrolabe published from 1981 to 1990, and which it still retails. This unique yearly reference work gives the times each day when the planets cross the horizon and meridian of localities in the U.S.


The Astro*Intelligence horoscope analyses by Liz Greene. Astrolabe has since 1989 been the North American agent for this unusual proprietary report series by Astrodienst Zürich AG.


The program used for the planetary calculations in Jim Maynard's Celestial Influences calendars. This was custom-written by Astrolabe.


The horoscope calculations for 26,000 Stardate pendants marketed by American Express. This unusual jewelry product is engraved with the positions of all the planets in a person's horoscope.


The ACS PC Atlas, the premier longitude, latitude and time zone reference for astrologers. Astrolabe worked with Astro Computing Services in the early 1990s, advising on the user interface for the PC version of their well-known reference work, and in 2008, Astrolabe bought the rights to the Atlas. Astrolabe and ACS (now Astro Communications Services) maintain a mutual dealership agreement for each other's software products.


The Astro-Graphics Heliocentric Ephemeris 1981-1990, and the Astro-Graphics Sidereal Ephemeris 1981-1985, both published by Astro-Graphics Services in 1981. These small books filled a need for such specialized ephemerides during the 1980s.


The World Ephemeris for the 20th Century, first published by Para Research and then by Whitford Press. Astrolabe provided the calculations and Robert Hand wrote the Preface.


The Astrolabe Ephemeris for the 21st Century, published by Whitford Press. Astrolabe provided the calculations and Robert Hand wrote the Preface. This unique ephemeris inlcudes both longitudes and declinations for the planets, Chiron and the four major asteroids.


Astrolabe provided the calculations for Ephemeriden 1850-2050: Ceres, Pallas, Juno, Vesta, Cheiron, Isis, published by Astron Verlag, Germany. (Sold on Amazon)


Astrolabe also published Bruce Scofield's The Timing of Events: Electional Astrology (1986), dry-transfer sheets of astrological symbols, 90deg and 360deg dials, and a series of graphic ephemeris pads for the 1980s - which have since been superseded by computer programs like Solar Fire and Nova Chartwheels - that enabled users to create their own graphs.


Non-Commercial Activities
Beyond being a business, Astrolabe is a resource and learning center. Its meeting rooms have been used for a variety of astrological classes, as well as for the lectures and study groups of the Cape Cod Chapter of the National Council for Geocosmic Research.
During the 1980s the company collaborated with the Cape Cod NCGR to produce astrological Master Classes: five-day courses on advanced astrological topics that drew professional astrologers from all over the U.S. and beyond. In 1980 the topic was astronomy; in 1981 it was Hindu, off-the-ecliptic, Uranian and sidereal techniques; in 1982 it was harmonics; in 1983 the history of astrology; and in 1985 the application of social-science research techniques to astrology.
Astrolabe's Founder
ROBERT HAND, Astrolabe's founder, is well known among astrologers. In 1960 he was introduced to astrology by his father, Wilfred C. Hand, who used heliocentric planetary positions to predict stock prices. He continued doing astrology while studying the history and philosophy of science at Brandeis University, the University of California at Berkeley, and Princeton University. He has written five highly acclaimed books (Planets in Transit, Planets in Composite, Planets in Youth, Horoscope Symbols and Essays on Astrology) and many articles and prefaces. He has also lectured throughout Europe and in India, Australia and New Zealand. From 1972-1990, he served as a director of the National Council for Geocosmic Research, and was Chairman from 1990-1999.

Among the many honors Hand has received are the United Astrology Congress' (UAC) first Regulus Award for Astrological Innovation and Research in 1989 and, as one of the principals of Project Hindsight, he received that award again in 1995. In 2008, also from UAC, he received the rarely given Lifetime Achievement Award at the United Astrology Conference in 2008. In addition, he holds the Southern Cross Award from the Federation of Australian Astrologers, the Neil Michelsen Award from the Global Research Forum, and appointment as a Patron of the Faculty of Astrological Studies in Great Britain.
In 1977 Robert Hand began writing astrological programs for personal computers, and in 1979 he gathered several of his astrological colleagues to found Astro-Graphics Services (now Astrolabe) to make the benefits of computers available to other astrologers.

Rob is currently focusing his attention on traditional astrology, publishing translations by himself and others of ancient and medieval works, as well as new works on traditional astrology through ARHAT, the Archive for the Retrieval of Historical Astrological Texts. He also has a thriving astrological consulting practice.