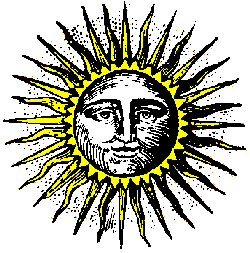 SOLAR FIRE 6 - The Deluxe Edition
Now with built-in ACS Atlas!

First produced in 1992, Solar Fire has been expanding ever since to become the most popular astrological calculation package for professionals, amateurs and students alike. Earlier versions brought an unprecedented level of ease to casting and working with astrological charts. The current version adds many more calculations, extra convenience features, more interpretive text, and exciting new kinds of graphic displays. And, with the built-in ACS PC Atlas, you'll have access to the most up-to-date time zone, latitude and longitude information for over 252,000 places in the world!

The Program That Gives You Wings

Encyclopedically complete and thoughtfully designed, the new Solar Fire 6 Deluxe Edition puts the whole vast realm of astrological calculations easily within your reach.

If you're a long-time astrologer, you'll enjoy a new level of hassle-free operation, crisp and attractive charts, an in-depth choice of methods, and virtually unlimited customization possibilities.

If you're a beginner, you'll find the program's straightforward menus easy to use, and its point-and-click interpretations will get you quickly up to speed. As you grow in skills and knowledge, Solar Fire will remain your trusted companion while you master an ever-widening repertory of astrological techniques.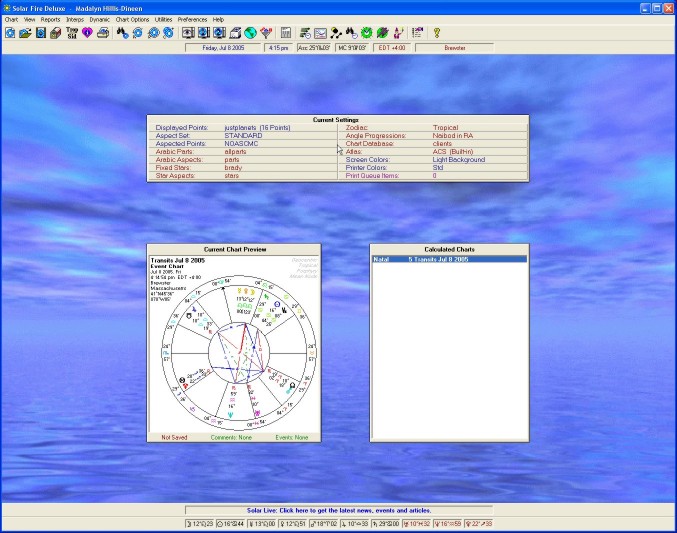 Solar Fire Main Screen
Superb Tools for Everyday Tasks
Support for Many Schools and Traditions
A Trusted Companion for Exploring Special Topics
Powerful Chart-File and Time Searches
Wheels and Pages As You Like Them
Available Now

Solar Fire. Known and loved by astrologers the world over for its silken-smooth operation, elegant screens and printouts, myriad customization choices, and encyclopedic range of techniques.


Solar Fire 6: Deluxe Edition with built-in ACS atlas and printed manual, $289

Upgrade from Version 4 or 5 without printed Solar Fire 6 manual, $99; with manual, $114.

Upgrade from Version 2 or 3 (includes manual) $169

Upgrade from Solar Fire 1 or Nova (includes manual), $229

Important note if you have Japanese, Chinese or Hebrew versions of Windows 98, 2000 or ME: When you order Solar Fire 6, let us know if you are using one of these Windows systems. Because these use non-English character sets, it's possible that you may experience font problems when using Solar Fire 6 with them.As a workaround, we will also supply you with a password for Solar Fire 4, which has been proven to work with these non-English Windows versions.


If you have a non-English version of Windows XP: There are Windows XP workarounds that will enable you to use Solar Fire 6. See the Tech support page for Windows XP instructions.

Take a peek at some of these screen shots: Uranian Dial, User-defined Page, Planetary Search, Chart Wheel, Graphic Ephemeris.
Download a sample natal interpretation for Ron Howard

Download a sample transit report for George Bush - July 1, 2005-June 30, 2006
Download a sample progression report for George Bush - Jan 1, 2005 -Dec. 31, 2009
Download a sample synastry interpretation for Brad Pitt and Angelina Jolie
Download a sample synastry interpretation for Bill Clinton and Hillary Rodham Clinton

These files require the free Adobe Acrobat Viewer 3.0 or better.

System Requirements: IBM-compatible PC with a Pentium or higher processor or Mac running Virtual PC; 64Mbytes of RAM; CD-ROM drive, SVGA 800x600 or higher resolution modes with High Color; hard disk drive with at least 75Mb of free disk space; Windows 98, NT4, 2000 or XP. Solar Fire 4 is recommended for those who cannot meet these hardware requirements.
Price: $289 - Includes built-in ACS Atlas
Upgrade from v. 4, 5 or 5.1, $99/$114*
Upgrade from v. 2 or v. 3, $169 (includes manual)
Upgrade from v. 1 or Nova, $229 (includes manual)
*First price includes disk and an on-disk manual; second has printed manual added.
Want to Order Online?
Want to Order by Mail?
See our Order Form
For more info or to order call:
1-800-THE-NOVA

Getting the Most from Solar Fire with Madalyn Hillis-Dineen Instructional DVDs