Skip to main content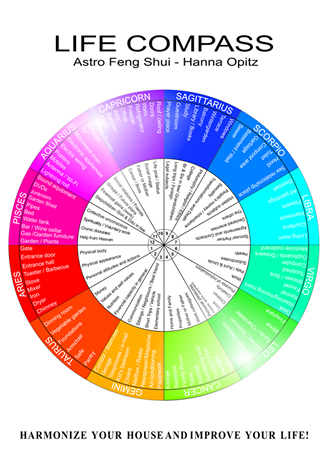 Harmonize your House and Improve your Life
LIFE COMPASS - Our home is a reflection of our life and we are the reflection of our home.
Did you know that just as you can read an astrology chart, you can also use this information to understand your home? To be able to do this, you just need to know which rooms and objects are connected to the energy of a particular sign.
For example, if you are interested in the emotional life of a person, you can start by looking for rooms and objects that correspond to the sign Cancer: kitchen, table, carpets, bathtub. The idea is that the harmonization of the kitchen (clean, organized, elegantly decorated, painted with appropriate colors) will also improve the emotional state.
The entire household will also reap the benefits of the house that has Cancer on the cusp. Using the system of whole signs, you just need to know the ascending sign of each resident. Is the rising sign Virgo? Then for this person Cancer is in the XI, therefore harmonizing the kitchen, will improve areas of friendships or community participation.
With information about analogies of the signs with each room and object, every person can diagnose and cure, because by transforming and harmonizing the living space, life will be transformed. And for those who know astrology here is a tip; the scenario (environment of the sign) can always be improved so that the actor (planet) is more at ease in performing his role. For example, placing order and harmony in the environments in a house ruled by the Virgo sign such as laundry, workshop and shower, we will be helping the performance of the planets that are positioned in the Virgo sign.
Bring the information of Heavens and help yourself on Earth!
Astro Feng Shui is an unprecedented tool developed by Hanna Opitz for astrologers and lay people. For each area in our life (love, money, health ...), there are corresponding parts and objects of the house. The area of ​​life corresponding to an object self-regulates as we repair and harmonize broken areas and objects. This is a method that can be utilized by anyone. With the help of Life Compass and its videos, you will be capable to read the clues, detect and translate existing imbalance into solutions for yourself or your friends and clients.
The Life Compass Video explains in an extremely easy way how to apply the benefits of the Life Compass. Here is a short preview of the video:
https://alabe.com/LifeCompass/Life_Compass_Trailer.mp4
If you have trouble watching the trailer above, you can watch on YouTube, here: https://www.youtube.com/watch?v=EgjKh-Q42oo
The Life Compass is available for download in 11 languages:
English, Spanish, German, Italian, French, Dutch, Latvian, Russian, Portuguese, Chinese and Japanese: $15.00 Order Online
The English version of the Life Compass is also available as a hard copy. Shipping and handling charges will apply.
Astro Feng Shui video, length 2h10m: $ 40.00 Order Online
Life Compass and Astro Feng Shui video set: $ 50.00 Order Online
---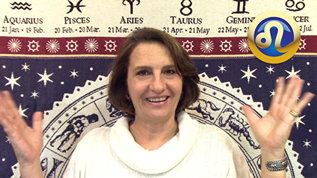 About Hanna Opitz: Hanna Opitz is a Brazilian astrologer and an international lecturer. She teaches courses and provides astrological consulting services in homes in several countries in Europe, Asia and the Americas. Hanna is the author and co-author of 3 books and the "Life Compass - Astro Feng Shui." Nowadays she is working on a vocational midpoint research. On her website, www.hannaopitz.com, you will find suggestions of activities and places that, according to astrological symbolism, help each person recuperate energy and the state of well-being. You'll also find astrological gifts ideas, decor suggestions, and animals related to each sun sign. Her Astrology Conference https://www.youtube.com/watch?v=A5Sdi0rpSgw was viewed by more than 369,000 visitors.